COMPANY PROFILE – Business Units
Polaris Works is specialized in construction and assembly of prefabricated units.
Delta designs and constructs process equipment since 1968. The production range includes:
- Reactors
- Heat Exchangers
- Pressure Vessels
- Dryers
Kosmos is specialized in costruction and erection of industrial plants and on-site regular and special maintenance services.        
Polaris, Polaris Works, Delta and Kosmos form an integrated team, providing an easier response to customers requirements in process industry with effectiveness, flexibility, quality and with a good economic compromise.
OUR APPROACH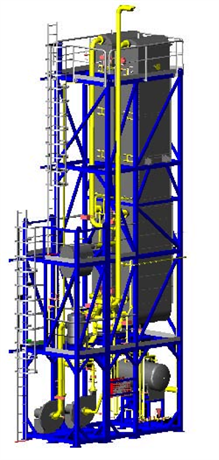 The Polaris structure is flexible and able to manage different level projects, and contracts having different scopes and features, engineering services supply as well as turn-key plants supply.
Polaris has developed with accuracy the techniques of design and construction of prefabricated systems, also with relatively large dimensions. With such approach, Polaris is able to supply the customers in all countries with complete plants with a significant reduction of costs, construction and erection works, and with an easier approach to testing procedures and risks associated to on-site activities.
For a better support to clients and for follow-up assistance after delivery and start-up, most Polaris plants are equipped with telemetry systems connected by internet to the Polaris central station, and the company is available for supplying maintenance services. 
Polaris quality system is conform with ISO 9001:2008, certified by TUV.