VT, VQ and VK Series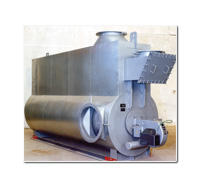 Combustion chamber made of highly resistant to heat steel plate. 

Heat exchanger with steel tubes that vary their quality depending on the working temperature. 

Indirect heating, without mixing air and combustion gases. 

All types of liquid and gaseous commercial fuel admitted.
Use criteria:
Useful calorific power up to 1.500 kW Air outlet temperature up to 400 ºC Max. admisible working pressure 2.000 mm C.A.
Applications:
Industrial processes: Air heating in drying installations for the food, textile, minerals, ceramics, wood, automotive and auxiliary industry, as well as installations for metalic and plastic surfaces treatment. Ambient air heating in industrial installations.